Additional Services
AJW Technique Interiors also offers the following services:
Cut & Sew (Seat covers, life vest pouches, and curtains)
EPA / PMA Interior Parts Manufacturing
Composite Repair & Manufacture
NPD (New Product Development)
Cabin Modification & Refurbishment
Supply of Refurbished Aircraft Seat Shipsets
Cargo Floors, Panels, and Liners
Sheet Metal Fabrication & Forming
Part 21J Design & Part 21G Manufacturing Services
SkyLeather® - An innovative alternative to natural leather seating
Our partnership with the largest seat cover manufacturing facility in Europe, Autostop Aviation, producers of SkyLeather®, allows us to offer this world-class product to our global customer base at an unparalleled price per linear metre, with all design, development, and manufacturing undertaken onsite.
With an in-house laboratory, the seat cover manufacturing facility, adjacent to the SkyLeather® production factory, delivers a one-stop-shop service, from material design to finished seat cover manufacturing, eliminating transportation costs and delays.
The benefits of AJW Technique Interiors' innovative synthetic leather are numerous. SkyLeather® is available in any colour and grain or you can choose from our standard colour palette to colour match your cabin. Its high elasticity simplifies fitting in complex seat shapes and covers maintain their shape to look new for longer. Extreme durability ensures resistance to abrasion, heat ageing, and weathering. Being 25% lighter than hide leather, SkyLeather® offers considerable cost savings to airlines and passenger comfort is enhanced with a luxurious, supple, and soft-to-touch feel with good thermal properties. SkyLeather® is a lightweight, synthetic Polyurethane material and an ingenious alternative to engineered and hide leathers. It offers advantages in seat maintenance, cabin aesthetics, and passenger well-being and leads the way for sustainability.
Quality Assurance
Autostop brings years of automotive seat cover manufacturing experience to meet the quality and compliance demands of aviation. The embedded Six Sigma principles mean aviation seat covers are manufactured to a tolerance of 1mm, only found in the automotive industry. With active and full partnerships for EASA Part 21J DOA approved design, and EASA Part 21G organisations, products are released with EASA Form 1 certification.
SkyLeather® cleaner
Specifically developed for the aviation industry, SkyLeather® cleaner is a highly effective cleaning and disinfecting solution. It has a fast-acting antibacterial and antiviral formula, enriched with 100% pure essential oils that give it a fresh scent of lavender, orange, peppermint, or pink grapefruit.
Environmentally friendly
AJW is committed to the environment and to sustainable business practices, which is why we proudly offer this eco-friendly powerful, water-based product that is free from harmful chemicals such as bleach, solvents, chlorine, biocide, taint, and phosphates. Not only is it safe to use without gloves, but thanks to its recyclable and reusable packaging is also kinder to the environment. Click/tap on the image below to find out more!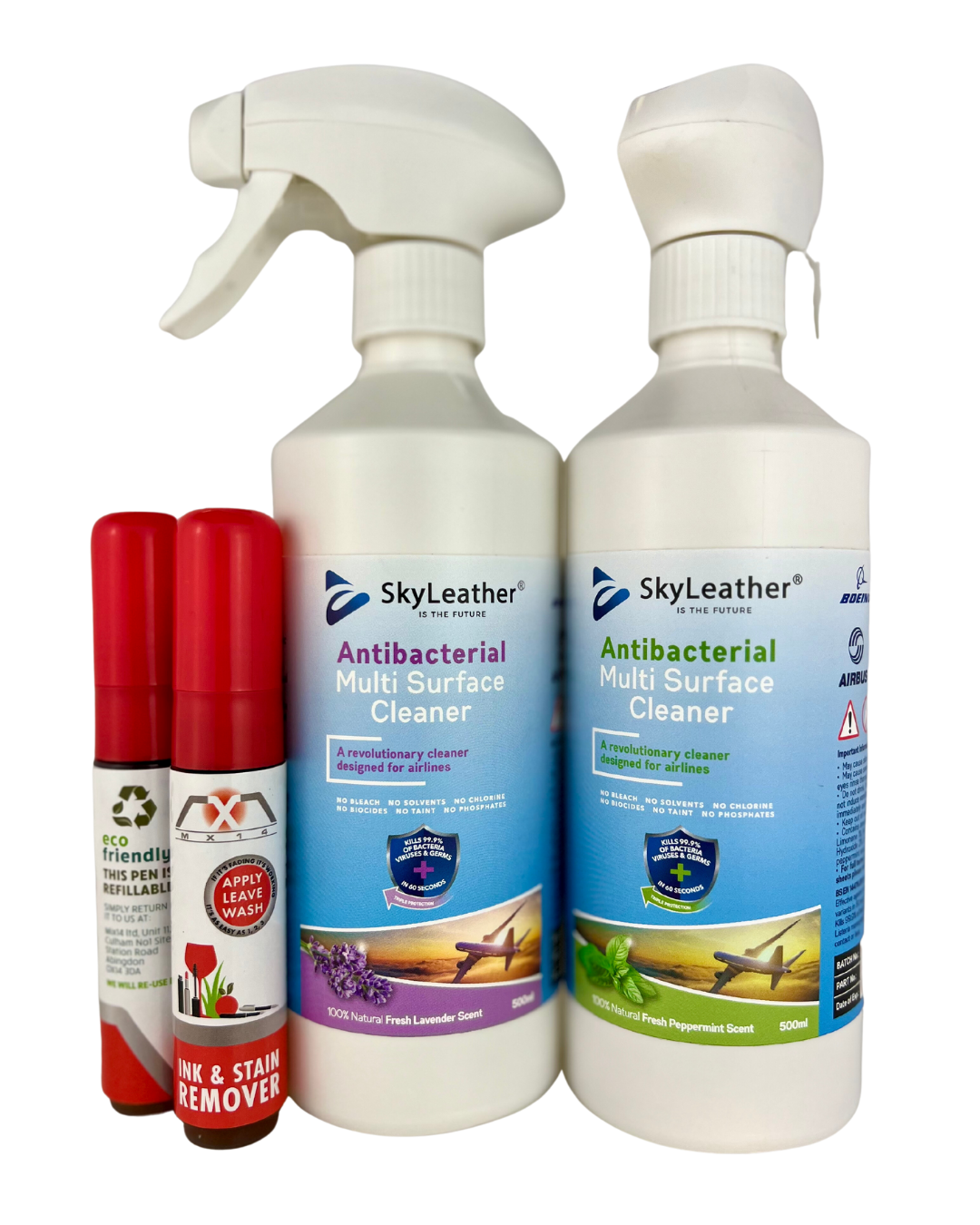 Contact the AJW Technique Interiors team
Learn more about the services we offer